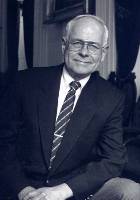 8 October 2008 • WALLINGFORD - Captain Robert Hart Weeks, 78, U.S. Navy (Retired) of Wallingford, passed away on Sunday morning, October 5, 2008, at the Rutland Regional Medical Center.

Bob was born April 1, 1930, in the village of Bay Shore, Long Island, New York, the son of Walter W. Weeks and Laura Alberta (Hart) Weeks. As a 1951 graduate of Rensselaer Polytechnic Institute in Troy, New York, with a degree in mechanical engineering, he was commissioned an ensign in the United States Navy. His 23 years in the Navy saw wide-ranging service on submarines and destroyers.

As a Naval officer, he initially served on the Sixth Fleet destroyer USS R H McCard (DD-822) in the Mediterranean Theater. After two years in destroyers, he reported to the Navy's Submarine School in New London, Conn., graduating in 1954. He then served on two diesel submarines and became director of the engineering department at the Submarine School. Following that tour, he was selected by Admiral Rickover to attend the Navy's Nuclear Power School. After graduation from this course, he served on two nuclear attack submarines, USS Skipjack (SSN-585) and USS Seadragon (SSN-584), and a nuclear fleet ballistic missile submarine, USS Thomas Edison (SSBN-610).

In 1966, Bob commissioned and took command of the USS Henry L. Stimson (SSBN 655), a nuclear fleet ballistic missile submarine. At the time, he was the youngest officer ever to command a ballistic missile submarine. He spent five years commanding the Stimson, conducting Cold War strategic deterrent patrols in the Atlantic Ocean and Mediterranean Sea. These patrols operated out of Rota, Spain, and the Holy Loch in Scotland. During his sea-going naval career, Bob was typically on a three-month patrol cycle followed by three months of shore-based training.

In 1971, Bob was selected to be the strategic warfare officer on the staff of the commander-in-chief of U.S. Navy forces in Europe under NATO. He was the principal officer responsible for all strategic nuclear forces in the European Theater. During these years, Bob and his wife, Geraldine "Gerry," who wed on June 8, 1952, moved their growing family through various duty stations including Newport, R.I., Portsmouth, N.H., Honolulu, Hawaii, New London, Conn., Virginia Beach, Va., Windsor, Conn., Little Creek, Va., and Stuttgart, Germany. While stationed in Europe, he earned his MBA from the University of Utah.

Ultimately attaining the rank of captain, Bob's Navy commendations include the Meritorious Service Medal, Meritorious Unit Commendation Medal, Navy Expeditionary Medal (awarded twice), Navy Service Medal, National Defense Service Medal (awarded twice), the At-Sea Command insignia and the Fleet Ballistic Missile Deterrent Patrol insignia.

After retiring from the Navy in 1975, Bob moved his family to Vermont. Here he served as the executive assistant to the president of Vermont Yankee. Before retiring from business, he was president of The Delta Group, a firm that he established to furnish management consulting and executive recruiting services to the nation's electric utilities.

Bob served in the Vermont legislature from 1995 to 1997 where he was a member and clerk of the House Transportation Committee. He served a second term in the House from 2000 to 2002 as a member of the Institutions Committee. Most recently, Bob had served as a justice of the peace for the town of Wallingford. He was a director of the Wallingford Civic Association, chairman of the Rutland Regional Chamber of Commerce's Transportation Committee, a member of the Rutland Regional Transportation Council and a member of the Route 4 Bypass Advisory Committee. Bob was a founding director of the New England Dollars for Scholars program, establishing a chapter at Mill River Union High School. He also served on Vermont Governor Richard Snelling's Cost Control Council in 1977.

Bob is survived by his wife, Gerry, who resides in Wallingford, Vt. They have five children: Mark and his wife Martine Lambert currently of Brussels, Belgium; Richard and his wife Laura currently of Brewster, Massachusetts; Carol and her husband Dan Murphy currently of Pawcatuck, Connecticut; Dean and his wife Patricia currently of Montgomery, New Jersey; and David and his wife Sandra currently of Abu Dhabi, United Arab Emirates; as well as seven grandchildren, Daniel, Ryan, Emmett, Jake, Sarah, Catherine and Nicolas.

Friends may call on Friday evening from 6-8 p.m. at the Wallingford-Aldous Funeral Home.

Funeral services will be held 2 p.m. Saturday, October 11, 2008, at the Wallingford Congregational Church. Burial with military honors will follow in the Green Hill Cemetery.

Send private condolences through www.aldousfuneralhome.com.

Memorial contributions may be made on Bob's behalf to Scholarship America (Dollars for Scholars), 51 Main St., Stoneham, MA 02180 (www.scholarshipamerica.org); or the Gilbert Hart Library, 14 South Main St., Wallingford, VT 05773-0069.

View the guest book at rutlandherald.com/obits.

Source: Robert H. Weeks

***

13 October 2008 • WALLINGFORD — The funeral service for Capt. Robert Hart Weeks, 78, U.S. Navy (Ret.), who died Oct. 5, 2008, was held Saturday, Oct. 11, at Wallingford Congregational Church.

The Rev. Robert Noble officiated.

The organist was Wendy Savory. The cellist was David Baasch.

Bearers were Mark, Dave, Dean and Rick Weeks, Dan Murphy and Matt Warren.

Burial followed in Green Hill Cemetery. Military honors were provided by American Legion Ralph H. Pickett Post 52 in Wallingford, American Legion Post 31 in Rutland, and the flag was presented by Navy Operational Support Center Funeral Honors Detail in White River Junction.

Memorial contributions may be made to Scholarship America (Dollars for Scholars), 51 Main St., Stoneham, MA 02180 (www.scholarshipamerica.org); or Gilbert Hart Library, 14 S. Main St., Wallingford, VT 05773-0069.

Arrangements were under the direction of the Wallingford Aldous Funeral Home.

Source: Capt. Robert H. Weeks Rites

***

Photo: 29 November 2009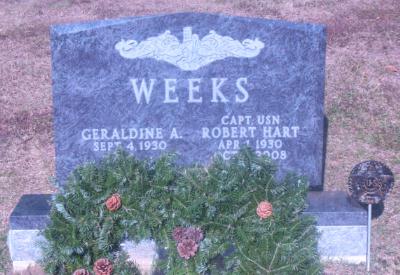 ***
Memorial Day 2015