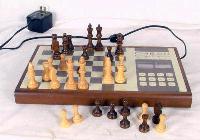 In the previous post on Top eBay Chess Items by Price, I featured an Elegant Classical Chess Clock. In this post, I'll mention a couple of 'vintage' chess computers.

The model pictured on the left, listed as a 'Fidelity Chess Challenger 1 CC1 Electronic Computer'. It sold Buy-It-Now for US $500.00. The description said,
Up for sale is an ultra rare Fidelity Electronics Chess Challenger 1 Chess Computer.

* The very first Chess Computer Available to Consumers!
* Only 150-300 are still in working condition!
* Model: Chess Challenger 1
* Manufacturer: Fidelity Electronics
* Year: 1977 (sometime before June)
* Est. ELO rating: N/A
* Levels of play: 1
* Type: Board with keypad / calculator
* CPU: 8080AF NEC 2MHz (clone of the Intel CPU)
* Programmer: Ron C. Nelson
* Powered by: AC – adapter connected directly to computer – non-removable
* Serial number: 21478

Comes with power supply and chess pieces.
More information on the model can be found at Fidelity Chess Challenger CC1 (ChessComputerUK.com).

***

If you think $500 is a lot for a vintage chess computer, a different make and model sold for almost three times that price. A 'Tasc R30 chess computer with SB 30 smartboard' received 8 bids, where the winning bid was GBP 1,040.00 (approximately US $1,494.38 according to eBay). Its description read,
This is a rare opportunity to purchase possibly the best chess computer ever made. I bought this chess computer in 1998 from the British chess shop in London; it has only been used on a few occasions. It is in excellent condition and perfect working order although the original boxes and user's manual are tatty.

The Tasc R30 computer unit has what probably is the largest LCD display you can find on a dedicated chess computer and it displays a great deal of information including: clocks (digital or analogue), graphic board (diagram window), list of moves and status of analysis. It can use hash tables, selective search and brute force models. You can even turn off the LEDs on the board, change the side of the clock (white = left, white = right), turn the speaker off or set the sound level to soft, select how the pieces will show up on the list of moves (characters or letters). The auto take back features make it very easy to take back moves all the way to the start of a game. Also, you can set it so that when you place all the pieces in their starting position you will start a new game.

The Tasc SmartBoard is a tournament size wooden chessboard. It is handcrafted in walnut with inlaid squares. Matching wooden pieces of Staunton model complete this beautiful and practical set. Advanced electronics in the board as well as the pieces identify each piece and register its position on the board. Piece recognition guarantees maximum reliability in play, as well as maximum freedom in analysing and setting up positions. It has a LED placed exactly at each of the four corners of each square. It provides the highest comfort by lighting all four LEDs to indicate a square.

* Computer name: TASC R30
* Manufacturer: TASC B.V. Rotterdam, The Netherlands
* Dates from: 1995
* Dimensions: 21 x 16 x 7.3 cm
* Power supply: 10 Volt (1 Amp.)
* Processor: ARM2, 30 MHz.
* Memory: 128 KB RAM 256 KB ROM, 512 KB hash tables
* Programmer: Johan de Koning
* Rating: Strong club players (Elo 2356)
* Language: English, German or Dutch
* Version: 2.50 (26-Feb-95)
* Board name: SmartBoard (SB30)
* Dimensions: 42 x 42 x 2.2 cm
* Board-square: 36 cm
* Field-square: 4.5 cm
* LEDs: 81
* King's height: 7.5 cm
I'll report an any other computer chess models that I find on future eBay lists of chess treasures.