The item shown in the image, titled 'Prattware Pot Lid FALSE MOVE Bishop Plays Chess COMICAL', was far from the the most expensive chess item sold on eBay during the preceding fortnight, but it was certainly the most unusual. It received 18 bids and sold for US $485.00.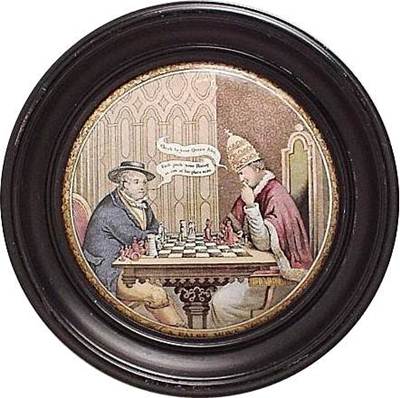 Its description said,
I believe this is one of the harder to find Prattware pot lids. It is titled "False Move" and a man plays chess with what looks like a Bishop or some clerical man in robes. The quotes to the comical scene are "Check to your Queen, John" and John responds, "Pooh, Pooh - Your Bishop is out of his place man."

This would have been made in the Staffordshire region of England in the mid 19th century. This is a larger lid, with an old frame. The frame is just shy of 7" at about 6 7/8". So the lid is about 5 1/4" wide. This is in very nice condition with no visible chips, cracks or repair. Of course, I can't see behind the backing of the frame. It is beautifully and tightly mounted, so I don't want to disturb things. But I would think it was fine. There are no scratches or wear to the surface, just typical glaze crazing. The frame is in very nice condition too, with no chips, cracks or repair, just a bit of scuffing to high spots.
For more images related to 'Prattware pot lids', see Google Images.

***

When I first started this series on Top eBay Chess Items by Price, it was meant to be a stopgap.
For the next month or so, my time for blogging is going to be extremely limited, but I'm reluctant to stop completely. Instead, I'll concentrate on topics that don't take much effort, like photos and videos. Another area that requires minimum effort is eBay.
Not being a collector, I've learned a lot by posting on objects about which I had little knowledge. On top of that, my stats tell me that the posts in the series make up half of my top-10 posts of all time. Since it looks like many people, probably chess collectors, are interested in this sort of thing, I'll continue the series until I run out of interesting items on which to comment.