Since posting about FIDE/ECU Chess in Schools, I've learned that the ultimate responsibility for the European initiative lies with one of the European Parliament's standing committees: Culture and Education (CULT). The committees's support of chess was cemented in a lobbying effort reported by TWIC in Kasparov and Danailov visit European Parliament on 15th Feb. Following is a photo from that visit showing Kasparov and MEPs of the CULT committee together with assistants.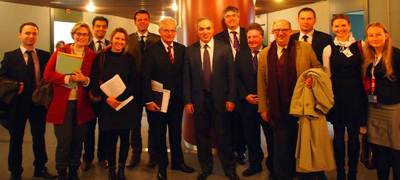 Members of the CULT Committee (to the immediate left and right of Kasparov): Marco Scurria (MEP Italy), Heinz K. Becker (MEP Austria), Garry Kasparov, Milan Zver (MEP Slovenia), NN, Santiago Fisas Ayxela (MEP Spain), Piotr Borys (MEP Poland),
Chessbase later reported on the February visit with Strasbourg: Getting chess into schools Europe-wide. The approved text of the initiative, officially known as WD50.2011, can be found in a Chessvibes report from March: Chess in schools program endorsed by EU Parliament.