Do good things come in twos? The previous edition of Top eBay Chess Items by Price featured a pair of Fischer autographed tournament covers in Fisching for Fischer, while before that we had Top Chess Item Twins. The current edition is composed of two auctions for a 'Snap-On Tools Drueke Chess Set', both auctions closing during the last fortnight. The first set sold for US $600.00 after 11 bids, while a few days later the second sold for US $565.55 after 17 bids. The composite image below shows the set stored in its tool set box with each of the three drawers opened to show the pieces.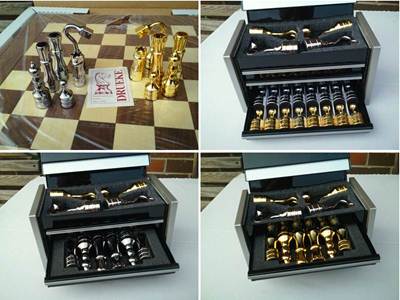 The first auction explained,
This is a very rare Drueke chess set. These were made for Snap-On as a special sales award. These could not be bought, only won by dealers in a year long sales contest. The chess pieces themselves are the unique part of this chess set. They are made of the same metal that Snap-On uses to make their sockets and wrenches. The pieces are nickel/chrome plated just as the sockets and wrenches are. One set of pieces is chrome, and the other set is gold chrome plated.

Heavy weight, shiny pieces -- beautiful! The base of each piece has Snap-On engraved with the part number that the particular chess piece was made out of. For example the Knight has Snap-On 5/8 S9706KFUA, a specialty socket; the Bishop has Snap-On SX3, a 1/2 drive 3 inch extension, etc. The pieces are stored in a miniature, black, Snap-On tool box replica -- very neat! The board is full size 21 inches x 21 inches, hand made DRUEKE, with Snap-On laser engraved on two ends of the border.
Both auctions mentioned that the 'set has never been used'. It was obviously made to be admired.