Ever wonder what do to with your old chess books? Here's one idea.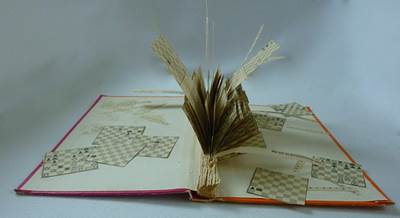 Aufbruch - Departure © Flickr user Ines Seidel under Creative Commons.
The Flickr page points to a blog post titled Aus dem Schachbuch, which explains,
Ein Buch über Schach bricht auf. Jahrelang hat es Sätze gelagert: "Die Seele des Schachspiels sind die Bauern" oder "Die Schönheit des Schachspiels liegt in den Ideen". Die Seele des Schachbuchs begibt sich in neue Formen.
An English version of the same page translates,
A book about chess breaks open. For years it has been storing sentences: "The soul of chess are the pawns." Or "The beauty of chess dwells in the ideas." Now the soul of this book dwells in new shapes.
The photos seem to be of a Keres book from the Sportverlag opening series, popular in the 1960s.