For this edition of the ongoing series on Top eBay Chess Items by Price, I could have taken the easy way out and gone for a chess autograph. There were at least four to choose from:-
Dinner Menu from Palma 1970 signed by Bobby Fischer and Bent Larsen • Winning bid: US $560.00 [14 bids]
2004 World Chess championship Leko / Kramnik signed set • Winning bid: US $902.54 [46 bids]
Chess J. R. Capablanca signed and Salo Flohr signed, joint simul Prague 1935 • Winning bid: US $999.00 [1 bid]
Bobby Fischer signed check and Fischer - Spassky 1992 signed item. • Sold for: US $1,000.00 [1 bid]
Instead I chose to try improving a photograph. The top image below shows the original from an auction titled 'Rare photograph Triberg Schwarzwald Germany 1920s'. It sold for US $633 after receiving 11 bids from three bidders. The bottom image shows my attempt at improving it.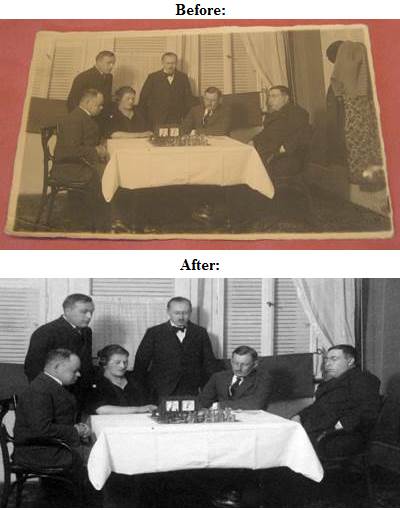 The description added,
Spielmann playing Rubinstein; Aljechin with wife sitting; standing Bogoljubow left and Selesnieff right; Note lower righthand corner "Atelier Carle Triberg"; 9 x 14 cm; very good.
At least I got the tablecloth to be whiter.