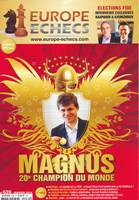 After ringing out the old year with a post on chess history -- Cat Fight -- what better way to ring in the new year than with a look at the January 2014 edition of Europe Echecs (EE), shown on the left. Even though he has held the title less than six weeks, the young man pictured on the cover might already be the most photographed World Champion of all time. The caption says, 'MAGNUS, 20th World Champion'. The 20th? How does the traditional count arrive at that number?
The last World Champion for which there is no argument was Kasparov, the 13th (his 'lucky number'). Many observers agree that when Kramnik beat no.13 in 2000, he became the 14th. Skipping ahead to 2013, if Carlsen became no.20 when he beat Anand, then the Indian must have been the 19th. Here's a recap.
13 - Kasparov
14 - Kramnik
[...]
19 - Anand
20 - Carlsen
What about the 15th through 18th champions? Since there were four FIDE World Champions anointed at various times, assigning them sequential numbers gives
15 - Khalifman (1999)
16 - Ponomariov (2002)
17 - Kasimdzhanov (2004)
18 - Topalov (2005)
That list looks reasonable, except for one problem. Anand won the FIDE title in 2000, so he should be no.16, not no.19. Alekhine, after all, is counted only as no.4, because he beat no.3 Capablanca. Although Alekhine later beat no.5 Euwe in their 1937 return match, Botvinnik is considered no.6 because of his tournament win in 1948. Similar counting logic applies to Botvinnik, who won return matches over no.7 Smyslov and no.8 Tal. Only the first title counts for the numbering.
I can think of other ways to count the champions. A reasonable method is as follows: The first three FIDE champions, the knockout winners, are dropped from the list, and Topalov resumes the count at no.15. His win at San Luis in 2005 was equivalent to Botvinnik's win in 1948. This gives
13 - Kasparov
14 - Kramnik
15 - Topalov
16 - Anand
17 - Carlsen
Anand can be assigned no.16 either for his win at Mexico City in 2007 or for his win over Topalov in 2010; take your pick. Then the numbering continues with Carlsen. Given the Norwegian's current dominance, we might wait a long time to see no.18.
***
The latest EE had two other features of special interest. The first was a four page insert serving as a communication from the French chess federation (FFE). Since EE is not funded directly by the FFE, the insert is intended for both FFE members and non-members.
The second feature of interest was a four page article containing campaign statements from FIDE President Ilyumzhinov and his opponent in the forthcoming election, former World Champion (no.13!) Kasparov. This is a big topic and I would like to return to the subject in a future post.