The drought continues on Top eBay Chess Items by Price, but rather than another generic post like Luxury Chess Sets, I decided to continue looking under my normal cutoff price of US $500 until I found something I liked. Glad I did, too.
The item pictured below was titled 'GREECE 500 Drachmes 1988 SILVER PROOF 28th Chess Olympiad', was listed at US $550, and finally sold 'Best offer accepted' for around $440. It wasn't entirely clear what was on offer, because most of the photos showed a gold colored coin encased in plastic, rather than the silver coin shown here.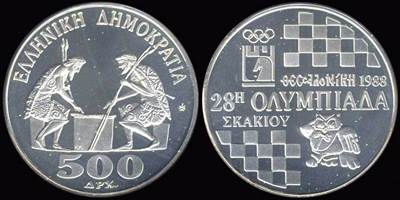 The description added,
Cut on the occasion of the 28th Chess Olympiad. On one side labeled "GREEK REPUBLIC", value, and two ancient chess [players]. On the other side labeled "Thessaloniki 1988 28th Chess Olympiad", the mark of the Olympics, some geometric patterns and owl. The composition of the metal is 90% silver and 10% copper. • Mintage : 3000; Weight : 18 gr.; on official case and COA!
The last time I featured a coin in this series was for Real Olympiad Gold. They don't come up often for auction.