Anyone who has been around top level chess for the last ten years can't help but have noticed the similarities between the recent Millionaire Open (already seen on this blog in Millionaire Wrapup) and the HB Global Challenge of May 2005. Maurice Ashley, big money, a new sponsor, and, as Mark Crowther's TWIC put it, 'American razzmatazz', all gave a strong feeling of déja vu. Borrowing from my monthly 'On the Cover' series, let's go back exactly ten years and take a second look at the HB Global Challenge.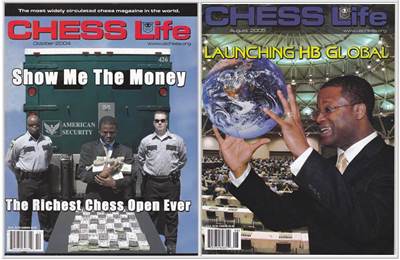 Left: 'Show Me the Money : The Richest Chess Open Ever' (Cover: Sherie Wallace)
Right: 'Launching HB Global' (Cover: Kathleen Merz)
Chess Life October 2004
$500.000 Guaranteed: The biggest Open money in chess ever! by Kalev Pehme • Declaring that a new era is dawning in the world of chess, backers have announced a new tournament to be held in 2005 that is expected to reach new plateaus in several key areas. Called the HB Global Chess Challenge, the event has the largest prize fund ever for an open chess event: $500.000 guaranteed. A new record for participation is anticipated as well, with thousands of players from around the world traveling to the U.S. heartland for the event.
Chess Life August 2005
The HB Gobal Chess challenge by GM Maurice Ashley • [Won by GM Zviad Izoria] The question on everyone's lips is, "So what about next year?" I wish I knew.
While GM Ashley hasn't been seen on any recent covers of Chess Life -- he was pre-empted by 'New World Champion' Magnus Carlsen when the Millionaire Open was announced in the February 2014 issue -- the USCF first carried the announcement in December 2013, Millionaire Chess Comes to Vegas 2014 (USchess.org):-
GM Maurice Ashley just announced a ground-breaking event, set for October 2014 Planet Hollywood in Las Vegas, the "Millionaire Chess Open." The event will feature a million dollars in guaranteed prizes including a $100,000 first prize in the Open section and $40,000 in various "Under sections." [...] Maurice says on the website, "That's right: a million dollars absolutely guaranteed! No other Open tournament in the long and storied history of chess has ever come close to guaranteeing that kind of prize money. The Millionaire Chess Open will be the first, and it will signal a new era in prizes and recognition for players at all levels."
October 2004: 'a new era is dawning'; December 2013: 'a new era in prizes and recognition'. New era or same old, same old? 'The question on everyone's lips is, "So what about next year?"'