Since I don't live in New York City, please forgive me for asking, 'What's an Otterness Person?'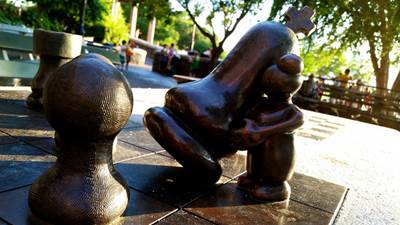 Otterness Person Playing Chess in Battery Park City © Flickr user Peter Dutton under Creative Commons.
Tom Otterness (born 1952) is an American sculptor best known as one of America's most prolific public artists. Otterness' works adorn parks, plazas, subway stations, libraries, courthouses and museums in New York—most notably in Rockefeller Park in Battery Park City and in the 14th Street/8th Avenue subway station—and other cities around the world.
There's a better photo of the same sculpture at Real World Playground, sculpture, chess, Tom Otterness, Battery Park City, but since it's marked 'All rights reserved', you'll have to follow the link.