One of the first posts in this series on Top eBay Chess Items by Price was How Much Is a Vintage Chess Computer Worth?, which featured a Fidelity Chess Challenger that sold for US $500. As I recently learned in Chess Collectors' Corner - What's Hot?, it was one of this blog's top eBay posts from 2010.
Five years later, the computer niche is just as popular -- maybe more so. Four figure US$ prices aren't uncommon, as I showed already two years ago in Top Computer Chess Items by Price. The item pictured below, titled 'Mephisto Portorose 68030 World Champion Chess Computer', subtitled 'One of the Rarest Chess Computers Ever Produced!', sold for $3977 after 42 bids from 15 bidders.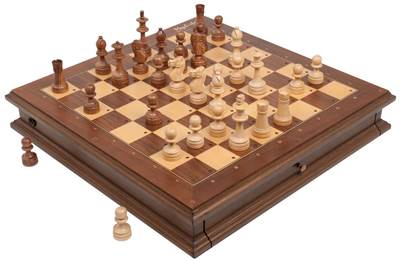 The description added,
This is, without a doubt, one of the rarest chess computers ever produced. [...] Produced in the late 1980s by Mephisto, the leaders in Chess Computers, The Portorose 68030 had an incredible 2236 ELO rating, which at the time was unheard of in the world of chess computers, and retailed for $15,000 USD. That's not a typo. In 1990, this computer sold for $15,000 US Dollars! The average price of a car in 1990 was only $9,700, to show you how rare and exclusive this computer was.

This is NOT a sold-at-retail-chess computer. You couldn't buy it in stores. This is a LIMITED EDITION COMPUTER offered by Mephisto to commemorate [Richard] Lang's World Championship-winning software. It features state-of-the-art technology for its time, including dedicated boards with upgraded processors, advanced cooling, and memory, similar to the hardware used in the Computer World Chess championship tournaments. [...] Less than 50 were originally produced!
According to my page World Chess Championship : Computer Chess, Lang won five consecutive World Microcomputer Chess Championships (WMCCC), 1986 to 1990. The 'Portorose 68030' machine must be related to the Mephisto version that won the 9th WMCCC - 1989 Portoroz.