We've all been there before. You're locked in a tense game of chess when all of a sudden a frog jumps on the board and knocks the pieces over. Then you can't reconstruct the position.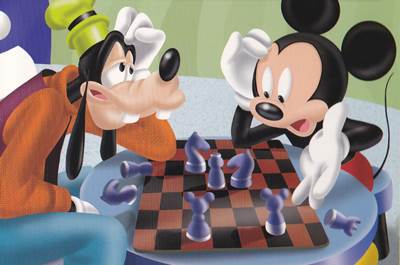 From Minnie - Mes Belles Histoires (Pi Kids, 2013)
Reading the book to my two-year-old granddaughter, we found this image in the story 'Une Journée à Rebondissements!' ('A Day of Twists and Turns', or something like that). I especially like the two pieces -- King and Queen? -- with mouse ears. My granddaughter especially likes to name the characters. Shown here are Dingo et Mickey.
The Disney company has long been a supporter of chess. See also Chess at Disney's Magic Kingdom, on this blog.