In this fortnightly series about Top eBay Chess Items by Price, I've occasionally remarked how eBay becomes quieter after the Christmas/holiday season. Is the same true of the winter-to-spring transition? The item featured in my previous post in the series, Two American Champions, was an under-the-radar choice that I would have overlooked had there been a real short list (even though it was a great selection!), and this current item isn't something I would normally choose (being visually unexceptional).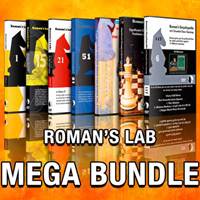 Titled 'ROMAN'S LAB CHESS DVD MEGA BUNDLE – ALL 117 VOLUMES! EVERY DVD - HUGE DISCOUNT' and pictured on the left, the bundle sold for US $1,249.99 'Buy It Now'.
Excerpts from GM Roman Dzindzichashvili's work occasionally appear on Youtube, and I once used an example in a post about Dzindzi's Instructional Videos (July 2007). The auction's description added,
Hosted by Grandmaster Roman Dzindzichashvili, former US and Russian Champion and Coach of World Champion Garry Kasparov, this video is an invaluable guide to learning chess openings, based upon understanding rather than memorization.

Roman's Mastering Chess consists of 111 volumes of Roman's Lab and 6 volumes of Roman's Encyclopedias. Together they make a complete collection of chess learning and entertainment!
The same videos, sold in various combinations and formats, are available from other sources on the web. Although I couldn't locate the exact same bundle, the buyer must have been convinced it was a bargain.