Everyone who follows international chess knows by now that China is a chess powerhouse: 43rd Chess Olympiad: Double gold for China! (fide.com):-
China is taking home two team gold medals from the 43rd Chess Olympiad in Batumi! (24 September 2018)
But I doubt that everyone knows how to follow chess news in China. I certainly didn't, so I decided to try a little exercise. First I picked a few random issues from the TWIC Archive (theweekinchess.com). Then I located events labeled 'CountryCode: CHN' and noted the associated 'Website'. Then I ran the site's URL through the same Google translation service that I used in yesterday's post on my World Chess Championship Blog, In with the New!, where I featured stories about the new FIDE president from the Russian chess news site, Chess-news.ru. The next image shows the result of a site that was referenced repeatedly in TWIC.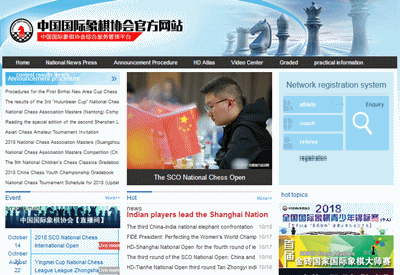 cca.imsa.cn translated by translate.google.com
Chinese text inside images isn't translated, but everything else is. The text in the black menu bar near the top of the page says,
Home
National News Press
Announcement Procedure
HD Atlas
Video Center
Graded
Practical Information
The photo caption says, 'The SCO National Chess Open'. If you follow a link, the new page is automatically translated by Google. Now that I've come this far, where do I go next? I'm sure I'll think of something.