Returning to Lasker's Moves that Matter, there are left on the list two games from both Kasparov's and Soltis's books on Lasker. These are the only games played after New York 1924 that Kasparov included in his book: he was more interested with his Predecessors during their reigns as World Champion.

The Iljin-Genevsky - Lasker game was played in the Moscow 1925 event. Although Soltis included five games from the event, he had little to say about the event itself in his introductions to the games. This is surprising because Soltis is an expert on the history of Soviet chess, and because it was the first great tournament organized by the Soviets after the revolution in 1917.

In 1924, the year Stalin took control of the troubled nation, Nikolai Krylenko, commander in chief of the Russian forces 1917-18, was appointed chairman of the chess section of the All-Union Committee on Physical Culture. Although money was still scarce, funds were allocated to organize the Moscow 1925 tournament. It was a relative success for 56 year old Lasker, who again finished ahead of Capablanca. The following crosstable is from the German edition of Hannak's biography of Lasker.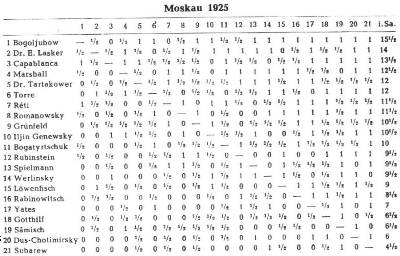 The famous scenes featuring Capablanca in the silent movie 'Chess Fever' were filmed during the event. It was also during that event that the Cuban World Champion lost in a simultaneous to the unknown teenager Botvinnik.