At the beginning of the month, in 'Defending the Human Race?', I mentioned the official programs for the 1996 and 1997 matches that Garry Kasparov played with IBM's Deep Blue. The two programs include many details about the matches collected into a single place.
I particularly liked the page about 'Kasparov's Team' in the 1997 program, because it confirmed facts about the relationship between Kasparov and Frederic Friedel that I learned in last week's post, Words Matter. Here's an image capture of that page.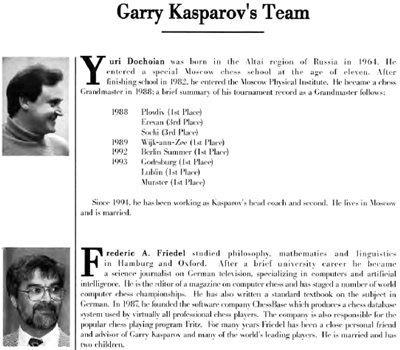 And here's a text version of the same page.
Yuri Dochoian [Dokhoian] was born in the Altai region of Russia in 1964. He entered a special Moscow chess school at the age of eleven. After finishing school in 1982. he entered the Moscow Physical Institute. He became a chess Grandmaster in 1988; a brief summary of his tournament record as a Grandmaster follows:

1988 Plovdiv (1st Place), Erevan (3rd Place), Sochi (3rd Place)
1989 Wijk-ann-Zee (1st Place)
1992 Berlin Summer (1st Place)
1993 Godesburg (1st Place), Lublin (1st Place), Munster (1st Place)

Since 1994, he has been working as Kasparov's head coach and second. He lives in Moscow and is married.

---

Frederic A. Friedel studied philosophy, mathematics and linguistics in Hamburg and Oxford. After a brief university career he became a science journalist on German television specialising in computers and artificial intelligence. He is the editor of a magazine on computer chess and has staged a number of world computer chess championships. He has also written a standard textbook on the subject in German. In 1987, he founded the software company Chessbase which produces a chess database system used by virtually all professional chess players. The company is also responsible for the popular chess playing program Fritz. For many years Friedel has been a close personal friend and advisor of Garry Kasparov and many of the world's leading players. He is married and has two children.
Similar, brief biographies of other match contributors are also found in the 1997 program.
The Deep Blue Team
- Chung-Jen [C.J.] Tan
- Feng-Hsiung Hsu
- Murray Campbell
- A. Joseph Hoane
- Jerry Brody
- Joel Benjamin

The Commentators
- Michael Valvo
- Maurice Ashley
- Yasser Seirawan

The Match Officials
- Match arbiter: Carol Jarecki
- Appeals Board: Ken Thompson and Monty Newborn
The Wikipedia pages for Kasparov's team are surprisingly skimpy -- Yury Dokhoian & Frederic Friedel -- and the related foreign language pages are not much deeper. Friedel's pages identify the computer chess magazine as Computer-schach & Spiele and the German language version leads to a separate Wikipedia page for the publication. Perhaps more information is available there related to Friedel's having 'staged a number of world computer chess championships'. There is no question that he was an important early promoter of the technology.