Of the 100 chess stories that appear at the end of every month on Google News, three or four on the same topic will signal strong interest in that topic from the mainstream press. What to say of 15 stories on the same topic? That's what I'm seeing this month for the Netflix production of 'The Queen's Gambit'. On top of that, I'm seeing a special Google box titled 'View Full Coverage' that I've never seen before. It looks like this:-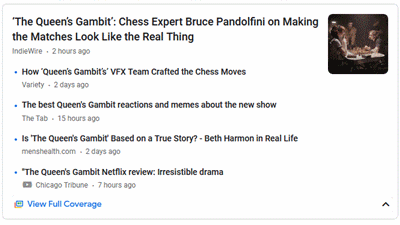 news.google.com/search?q=chess
It leads to a 'Full Coverage' page that goes on and on and on. Where to start? How about the Netflix trailer.

The Queen's Gambit | Official Trailer | Netflix (2:31) • '[Published on] Sep 24, 2020'
The trailer has almost 1.4 million views and 2500 comments, although as far as I know, this is normal for Netflix. Its description says,
When winning takes everything, what are you left with? The Queen's Gambit follows a young chess prodigy's rise from an orphanage to the world stage. But genius comes with a cost. A riveting adaptation of Walter Tevis' groundbreaking novel comes to Netflix on October 23rd, starring Anya Taylor-Joy.
This week I opened Netflix to add the program to my personal list. I was half expecting not to find it. A few years ago the company offered a Magnus Carlsen documentary that I've never been able to find. That led me to believe that their catalog in the USA is not the same as their catalog in Europe. This time I was more fortunate. At the top of my Netflix home screen, 'The Queen's Gambit' was the main offering.
I also flipped through my chess books, looking for the paperback copy of the Tevis' novel that I read sometime back in the 1980s. The name 'Beth Harmon' has stuck in my memory ever since. Between the Netflix program and the book, not to mention Google's 'Full Coverage', I'll be busy for a while.
Good timing, too, as Belgium is expected to go back into coronavirus lockdown this weekend. Maybe I'll get another blog post or two out of 'The Queen's Gambit'.