Last month's chess story discovered by the mainstream press was A Political Yahoo (June 2019). This month we have a story on every cheater's nightmare -- getting caught.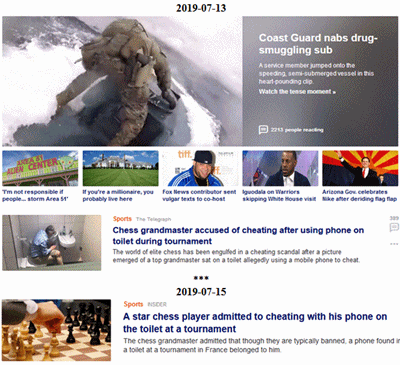 Summer doldrums? Hardly. Chess was the top Yahoo story after 'Coast Guard nabs drug-smuggling sub' and attention-getters like 'Fox News contributor sent vulgar texts to co-host'.
2019-07-12: Chess grandmaster accused of cheating after using phone on toilet during tournament (yahoo.com; The Telegraph).
The world of elite chess has been engulfed in a cheating scandal after a picture emerged of a top grandmaster sat on a toilet allegedly using a mobile phone to cheat. Police are investigating after Igors Rausis, who has represented Latvia, Bangladesh and the Czech Republic, was caught "red-handed", the game's governing body Fide said today. Mr Rausis, aged 58, stunned the chess world by reaching the game's top echelon at an age most players decline in strength. The former Latvian champion was hailed as an inspiration to older players as he climbed from a Fide rating of around 2500 - the level of an average grandmaster - to the verge of 2700 in six years.
That report was by Leon Watson (also of Chessable?), but the same story appeared on other news sources. The next report looks to be a rewrite of The Telegraph version.
2019-07-14: A star chess player admitted to cheating with his phone on the toilet at a tournament (yahoo.com; insider.com, related to businessinsider.com?).
The chess grandmaster admitted that though they are typically banned, a phone found in a toilet at a tournament in France belonged to him.
The Telegraph version of the story attracted nearly 500 comments.