How do you follow an important chess news month like World Championship Yahoos 2023 (April 2023; see the footnote for an explanation of Yahoos)? The previous World Championship was held in November, so the following month we had Year-end Yahoos (December 2021). While I'm thinking about that question, let's have the usual Yahoo statistics.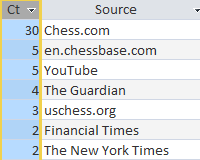 At the end of the month of May, Google News served 95 stories about chess. Seven news sources accounted for two or more stories, as shown in the chart on the left.
As it has every single month since I started this monthly Yahoo series, Chess.com dominated the chess news. In second place for the eighth straight month was Chessbase. The chart shows five stories for Chessbase.com, but there were really six, with ChessBase India adding another story, just like last month.
Third place on the list went to a newcomer: YouTube. Of the five stories, the video title that caught my eye was:-
No, they're not talking here about the 'Dortmund Sparkassen Chess Meeting', which will take place at the end of June. The video description informed,
The Kenya National Chess Champions KCB Chess Club have begun their 2023 campaign on a high scooping 4 wins and a draw against Nacha Kings in the premier league opening match played at KCB Ruaraka Sports Club.
The German tournament in August will be the 'World Teams Championship'. I have more to say about this month's Yahoos, but first I have to attend to some important offline business. Yes, Virginia, there is a whole world offline.
[Yahoos (mainstream news stories about chess) are derived from Google News top-100 (or so) stories from the past month.]
***
Later: As usual, I'm going with the stories that interest me the most. Other people will pick other stories, but since I'm writing the post, I get to choose. The first story is the latest development on a dark theme reported in a previous Yahoos' post, Downstreamer Yahoos (March 2023):-
The second of my picks is related to a post on my World Championship blog, C30 Zonal Hybrid Events (March 2022), which itself was the culmination of a series of posts on hybrid tournaments:-
The next story was the most interesting of the 44 stories that emanated from news sources with a single story for the month:-
Finally, my last choice was the start of a Chessbase series ('Wilhelm Steinitz') within a series ('Chess History in a Nutshell') within another series ('Understanding before Moving') that has been running on the site since late-2020:-
For the other stories in the same series, see Tag: Herman Grooten (ditto; 'Herman Grooten is an International Master, a renowned trainer and the author of several highly acclaimed books about chess training and chess strategy.').