In last month's report on Yahoos, The No.2 Yahoo (May 2022; see the footnote for an explanation of Yahoos), I noted,
For the first time that I can remember, a news source other than Chess.com tallied at least ten stories, with ChessBase accounting for exactly ten.
In the competitive world of chess journalism, fame is fleeting. The details follow...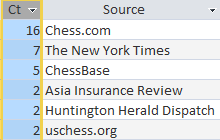 Instead of the usual 100 stories, this month the Google news search returned 99. A full 20 of those stories were from previous months, leaving 79 for the current month. The chart on the left shows that only six sources accounted for two or more stories. Doing the math means 45 sources had a single story.
No.2 on the list is a surprise. We've seen the New York Times (NYT) before, most notably in Three Times Yahoos (July 2021). Even then it trailed no.2 ChessBase, which checked in with five stories, the same as our current month.
Two of the NYT stories were of the type 'Play NYT Chess Puzzle', e.g. 'Play NYT Chess Puzzle: Carlsen Versus Karjakin'. This redirected to Chess Replay: You Versus Karjakin (nytimes.com; Daniel Naroditsky), which included an invitation:-
Take on Sergey Karjakin in a recreation of a World Championship game in New York, 2016. Solve for the best series of moves.
I wasn't able to go any further because 'This article is exclusive to Games subscribers.' Is it a puzzle or is it a type of solitaire chess? I'll probably never know. Of the other five NYT stories the earliest was:-
This led to an article that was not on the list of Yahoos:-
GM Naroditsky wants to be producing a daily chess puzzle for a mainstream (although very prestigious) newspaper that has rediscovered chess two years after the boom started by covid and Netflix? Earth to NYT : There are dozens (hundreds?) of chess sites that have thousands (hundreds of thousands?) of chess puzzles for FREE. A couple of other NYT Yahoos were:-
Is the sudden NYT interest a signal that the chess boom is ending? Let's hope not. I should be able to track the NYT's success in future Yahoo posts. Signing Naroditsky was a good start, but it will take more than that.
The big story I expected to see this month was the 2022 Candidates Tournament, currently being played in Madrid. Of the 79 stories, eight were related to the candidates event. Of those eight, half were of the genre 'facts-about-chess-championships', like this one:-
No prizes for knowing that it was exactly 50 years ago. How high will the Madrid Candidates figure on the list of July Yahoos? We'll find out in a month.
[Yahoos (mainstream news stories about chess) are derived from Google News top-100 (or so) stories from the past month.]