Once again, the last unconditional post of the month brings us the month's Yahoos. (For an explanation of 'Yahoos', see the footnote below.) Before looking at the month's stories, let's have the usual statistics and meta-analysis of the month's news.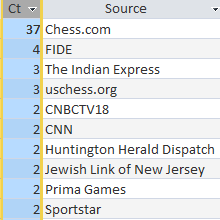 At the end of June, Google News returned 98 stories from 49 different news sources. The 10 news sources with at least two stories are listed in the chart on the left.
As usual, Chess.com dominated the chess news stories with more stories than the other top nine sources combined. This is no surprise and has happened umpteen times before, maybe even every month. The list of top sources does, however, contain a number of surprises.
The first surprise is the no.2 position held by FIDE. Last month, in Youtube Yahoos (May 2023), Chessbase was no.2, a ranking it has held or shared every month since last year's post Cheating Mania (September 2022), where the New York Times was no.2 and Chessbase was no.3.
The second surprise is the number of news sources which we haven't seen before in the Yahoo series. I should spend some time discussing those new sources, but that will have to wait for later. I'm already late with this post and there are other matters to attend to.
The third surprise isn't really a surprise. It's been expected since the September 2022 'Cheating Mania' post, which started,
It didn't take a crystal ball to predict that this month's Yahoos' post was going to be about Carlsen/Nakamura vs. Niemann, aka the chess cheating affair. The scandal broke three weeks ago and shows no sign of disappearing anytime soon.
For a summary of posts about the scandal, see Cheating for all Ages (March 2023). For the latest on the scandal, this month's top story, I come back to 'that will have to wait for later'.
[Yahoos (mainstream news stories about chess) are derived from Google News top-100 (or so) stories from the past month.]
***
Later: Unfortunately, I made a couple of mistakes when I prepared the discussion above. At the top of its results, Google News returned blocks of stories on two specific chess topics that I failed to include in my counts. As an example, both blocks included a story by CNN. If I had counted both stories, the CNN count would show four stories instead of two. I'll use the CNN stories to represent the two blocks.
'News about Global Chess League' (three stories; plus six more stories among the other 98 returned by Google News)
'Judge dismisses $100m chess lawsuit' (two stories, plus link for 'Full Coverage'; eight more stories among the other 98)
Those two topics each accounted for far more stories than we usually see on a single topic in a typical month of Yahoos. What about the nine sources (excluding Chess.com) with at least two stories? I'll feature what I consider the top story for each source.
The next three sources -- Huntington Herald Dispatch, Jewish Link of New Jersey, and Prima Games -- had local stories mainly of interest to local readers. The last source, Sportstar, has been mentioned in several Yahoos, most recently in Deja Vu Yahoos (December 2022; 'the Sportstar [thehindu.com] stories were mostly about the National Chess Championships of India'). This month, both Sportstar stories were about the GCL. Because of other commitments, I haven't been following the GCL, but it doesn't take a keen chess news fan to figure out that India is deeply involved.