It might seem like a year of Yahoos, but the current monthly series of chess in the mainstream press, last seen in July Yahoos, started with October Yahoos (October 2017). That makes this month's August Yahoos the 11th straight month of Yahoos.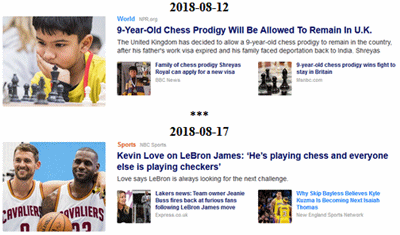 2018-08-10: 9-Year-Old Chess Prodigy Will Be Allowed To Remain In U.K. (yahoo.com). The Yahoo stub pointed to the original story from NPR.org, which started
The United Kingdom has decided to allow a 9-year-old chess prodigy to remain in the country, after his father's work visa expired and his family faced deportation back to India. Shreyas Royal is "very delighted" with the news, his father tells NPR by email. Shreyas has lived in the U.K. since he was 3 and has played chess since he was 5. Now, within his age bracket, he is the top chess player in England and one of the top 10 globally.
For the BBC version of the same story, see Shreyas Royal: Child chess prodigy's family can stay in UK (bbc.com).
2018-08-17: Kevin Love on LeBron James: 'He's playing chess and everyone else is playing checkers' (yahoo.com). This second Yahoo is hardly worth mentioning -- the only mention of chess (or of checkers) is the headline -- but it gives me the opportunity to point to another old post, A:'Playing Checkers' vs. B:'Playing Chess' (October 2014).