Just like the last two months, most recently in The Yahoos' Database Flags PogChamps (February 2021), I asked Google News to tell me what it considered the top chess stories of the past month. Just like last month, it gave me exactly 100 stories for consideration.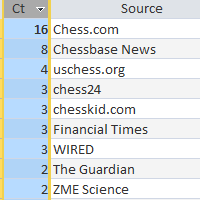 The table on the left shows which sources had at least two stories. For the third month running, Chess.com headed the list, and it was followed by four other chess sites. (NB: Chesskid.com is a subsidiary of Chess.com.)
For the first time in the three months that I've been conducting this exercise, a non-chess site had three stories. There were two such sites: the Financial Times and WIRED.
The one story that received the most attention was about alleged cheating. It was a two-part story. The first part was about the alleged cheating incident; the second part was about a test put to the alleged cheater. Here are separate reports on the two parts:-
Since the alleged cheating incident happened on Chess.com, it's only fair to give that site's point of view:-
In other news, it's hard to say if the 'Queen's Gambit' craze has run its course or not. One related story popped up on several sources. Here's one example:-
The story noted,
Netflix congratulated the star [Anya Taylor-Joy as Beth Harmon] on Twitter. The praise is well-founded. The show continues to be a winner for the chess industry, which is still riding a popularity wave more than four months after the show debuted.
As for last month's hot topic, PogChamps 3, it was nowhere to be found. Time for PogChamps 4? Maybe we'll see it next month.