The last two posts in this short series on Ding Liren summarized his career up to his last participation in a World Youth Championship (2004) and after his first participation in a World Championship event (2011). For specifics see:-
What happened during the intervening years? The following chart is a combination of:-
An extract of 'Results' from his Wikipedia page (in black and blue), and
Reports from TWIC (in red)
For example, the April 2007 Wikipedia reference corresponds to TWIC 659 (T659). The red box marks the time span covered by my TWIC search.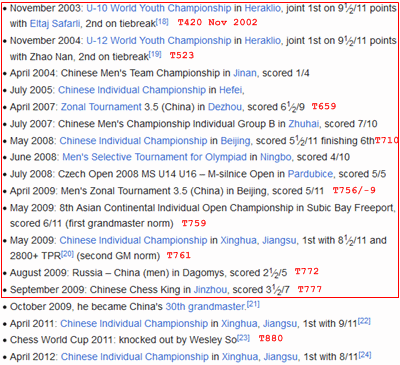 Ding Liren (wikipedia.org) // The Week in Chess (TWIC)
The year 2009 was the Chinese GM's breakthrough year. What about 2010 and after? I'll look at that in the next post.