Last month's Yahoo post, Three Times Yahoos (July 2021; see the footnote for an explanation of Yahoos), was as much about chess news sources as it was about news stories. This month's post is all about news sources.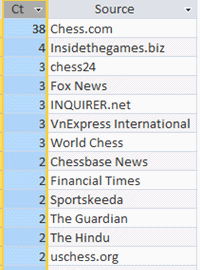 Let's start off with the usual look at the sources. Just like last month, and the month before, and the month before that, Chess.com heads the list (yawn!), followed this month by a dozen sources with at least two stories each. That leaves 31 sources with a single story.
The feature that struck me most about this month's list was the number of news sources that I didn't recognize : Insidethegames.biz, Inquirer.net, VnExpress International, and Sportskeeda. I decided to focus this post on those sources.
Insidethegames.biz: Wikipedia's Inside the Games starts, 'An Olympic news website edited by the British sports journalist Duncan Mackay.' All four stories were about the European Individual Championship. Here's one:-
Inquirer.net: 'Philippine news for Filipinos'. Thr most recognizable of the three stories was:-
VnExpress International: VN = Vietnam, as in:-
Sportskeeda: Wikipedia's Sportskeeda says, 'An Indian sports and esports news website, founded in 2009.' The two stories were only peripherally about chess, e.g.:-
That makes four news sources from four different countries where the English language is widely used. There's one more source which has been well known to keen chess fans since the mid-2010s.
World Chess (worldchess.com): This resource, aka news source, was first seen on my World Chess Championship blog in 2015 FIDE Congress : Whither the World Championship? (December 2015), and last seen on this blog in The World Was Watching (July 2019). The most interesting August Yahoo was:-
The youngster's name was Abrahim Djumanazarov of Uzbekistan. The greatest female player of all time knows a thing or two about prodigies.
[Yahoos (mainstream news stories about chess) are derived from Google News top-100 (or so) stories from the past month.]