Last month, in the long running series on The Sociology of Chess (November 2016), I posted on two topics:-
This month I'll continue with FIDE, although the connection with its Social Commission is not clear. Mid-month the world chess organization signalled a new initiative:-
That FIDE announcement, illustrated by the following image, reads like a press release.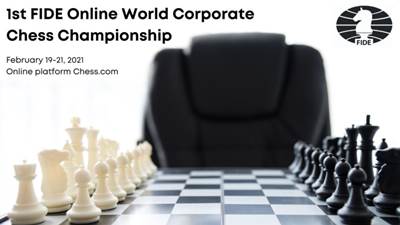 The announcement closed with a significant detail:-
There was no entry fee of any kind for this competition. However, FIDE is organizing a fund-raiser in cooperation with the platform Softgiving, and participant companies are encouraged to donate towards one of three social projects currently being developed by FIDE:
- Chess in Education, programs for underprivileged children,
- Chess for people with Disabilities, and the
- FIDE veterans support program.
Note the key phrase 'social projects'. A few days later FIDE issued a follow-up announcement:-
The next paragraph in the second announcement was nearly identical to the first paragraph of the FIDE document, FIDE Handbook E. Miscellaneous / 05. Corporate Social Responsibility Guidelines: 'Corporate Social Responsibility (CSR) is a self-regulating operational model that incorporates social and environmental concerns into an organization's planning and operations. The goal is to ensure that all of its activities positively affect society as a whole.' Funding appears to be a key component of the initiative:-
Which came first -- the tournament or the social funding? The tournament and related news was handled by Chess.com:-
For the official site, see World Corporate Chess Championship (fide.com). In this same long running series on 'The Sociology of Chess', I'll continue to track the new initiative.