This month we have two real chess Yahoos -- chess stories from the mainstream press. The story on the top asks, 'Obsessed With the Wallpaper in The Queen's Gambit?'
If obsessed, go here: Here's How to Get the Look (yahoo.com; NB: nothing to do with chess except the title):-
We'll help you become a retro decor grandmaster. Originally appeared on Architectural Digest.
If not obsessed, skip to the story on the bottom.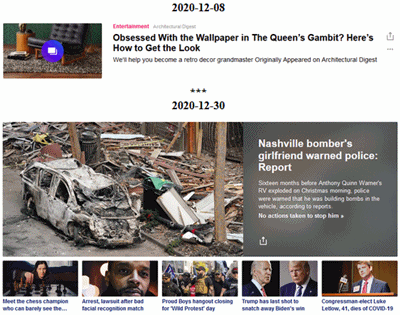 The chess story is the first box in the bottom row: 'Meet the chess champion who can barely see the...'. The missing word is 'board', as in 'chess board'. Here's the story:-
2020-12-29: She's a Chess Champion Who Can Barely See the Board (yahoo.com; The New York Times, Dana Mackenzie) • 'Have you heard this story before? Girl has rough start in life, discovers chess. She becomes a United States champion. She studies Russian. And now she needs to find a way to get to Russia to play chess, because she can't afford it. No, I'm not talking about Beth Harmon, the fictional hero of the Netflix megahit "The Queen's Gambit." Meet Jessica Lauser, the reigning three-time U.S. Blind chess champion. You can call her Chessica -- the nickname her math teacher gave her in eighth grade.'
Dana Mackenzie. Where have we heard that name before? Among other activities, he's a well known chess blogger. He gave us the backstory for the NYT article on his blog: Jessica Lauser, U.S. Champion (danamackenzie.com). The post starts,
Two days ago I hinted at a piece of good news that I had to keep secret for the time being. I can now reveal what it is. This morning, the New York Times published my article about Jessica Lauser, the U.S. Blind Chess Champion.
That makes two Yahoo stories this month inspired by 'The Queen's Gambit'. More to come? I'm thinking, 'Yes, for sure!'