In last month's Yahoos post, Yahoos of Madness, Yahoos of Tragedy (1 March 2022; see the footnote below for an explanation of Yahoos), I wrote,
Before gathering the data for this post on February Yahoos, I had already decided on the theme -- Russia's brutal, barbaric attack on neighboring Ukraine and its impact on international chess. [...] I'll come back in a month to see how the situation has evolved.
Nearly a month later, it's time to make good on that promise. First, let's have an overview of the month's Google News sources.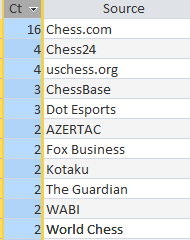 Of the 100 stories flagged by Google News, 82 were from March, 18 from previous months. Of the 82 stories from March, 16 were sourced from Chess.com, while another 10 sources had at least two stories. That left 40 sources with a single story.
Of the 82 stories, around a dozen had something to do with the war between Russia and Ukraine. Of the 16 stories from Chess.com, four were related to the war. Note that 16 Chess.com stories is the lowest ever for a single month from the no.1 chess news source.
All of the Chess.com stories were signed Peter Doggers. All received hundreds of comments from chess fans. For the sake of completeness, I added two more stories that were not returned by Google News.
That list alone adds up to significant chess news for a single month. It reflects the fact that both Russia and Ukraine are long-time powerhouses in world chess.
In a normal month I would feature some of the other sources shown in the chart above, of which there are several worth exploring. A new source that caught my eye was Kotaku, which describes itself as 'Gaming Reviews, News, Tips and More'.
Both stories relate to topics that I've followed elsewhere. For more about the Elon Musk story, see It's Not Polytopia (March 2022), on this blog.
The GM Nakamura story is currently unfolding at the FIDE Grand Prix, where he has reportedly clinched a spot in the forthcoming Candidates tournament. This confirms his status as one of the 10 best players in the world. For more about the event, see my page 2022 Grand Prix (m-w.com).
[Yahoos (mainstream news stories about chess) are derived from Google News top-100 (or so) stories from the past month.]