After last month's Yahoos post, Speculative Yahoos (June 2021; see the footnote below for an explanation of the term), Google News changed its format. Previous posts in the series were based on a title/subtitle combination for each story, but for the month of July, Google returned only the title.
For my homemade database software, this change didn't present much of a challenge. I simply inserted a blank line as subtitle. The downside is that for searches on relevant keywords, e.g. 'Netflix' or 'streamer', less data means fewer hits.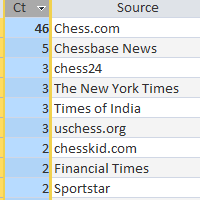 Taking a look at the news sources, Chess.com alone accounts for 46 stories. That number eclipses the 38 stories from last month, which was already the largest number of stories for any month.
What to make of this? Are there fewer chess stories from non-chess sources or is there some other, more benign explanation? The other eight sources with two or more stories account for 23 stories total, leaving 31 stories from sources with a single story.
The count of sources shows three sources with 'Times' in the name of the source. Let's use that observation to sample the non-chess sources. First, here are the stories from the New York Times (NYT):-
Where's the third? That second story, 'Dark Side of Chess' by Ivan Nechepurenko and Misha Friedman, accounted for two Google references. The NYT loves to tell me that 'You've reached your limit of free articles', but I can usually manage to find a way to read the story. The 'dark side' -- focusing on Sergei Karjakin and Abhimanyu Mishra -- is a long exposé about how young chess talents *really* earn their GM titles. The NYT story quoted a former World Championship challenger (1993):-
'We have a dog called Pasquales,' said Nigel Short, the vice president of FIDE. 'I believe it is possible that if I went to the effort, I think I could get my dog a grandmaster's title.'
The reason for the tattletale gossip was a widely reported story that appeared in both chess and non-chess sources, e.g. Abhimanyu Mishra Becomes Youngest Grandmaster In Chess History (chess.com). He thereby grabbed the record from Karjakin, who later became a World Championship challenger himself (2016).
Another 'Times' source had three stories. All of them featured Indian teenagers:-
The third 'Times' source was the Financial Times:-
Of the 100 total number of chess stories for the month, 17 were about the World Cup. Of those, 13 were from Chess.com. The site consistently reported on the main chess event of the month. Is that the reason for the record 46 stories from that source? If so, let's hope that the other sources catch up in August, when the World Cup reaches its final round.
[Yahoos (mainstream news stories about chess) are derived from Google News top-100 (or so) stories from the past month.]