I can start this month's post on Yahoos [see the footnote for an explanation of 'Yahoos'] by repeating a sentence from last month's post, Blocks of Yahoos (July 2023):-
For this current post Google News again 'returned blocks of stories on two specific chess topics' [note to self: find out what Google calls these sections]. Before I look at those, let's have the usual statistics.
Change 'two' to 'three' and the sentence becomes 100% accurate. First, here are the stats.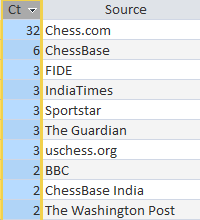 This month Google News returned 104 stories on a straightfoward search for 'chess'. Ten news sources with two or more stories each accounted for 59 of the 104 stories. That left 45 news sources with a single story each.
Once again, Chess.com alone accounted for more stories than the other nine news sources combined. Once again, Chessbase was runner-up with six stories plus another two from ChessBase India.
Back to those three blocks of stories, with three stories each, they were:-
'News about Hans Niemann, chess'
'Chess World Rapid Team Championship'
'R Praggnanandhaa receives grand welcome at Chennai airport'
That summary doesn't give the full picture, because the block of Hans Niemann stories expanded to a second page linked as 'Full coverage of this story'. That page had four stories under 'Top news', four Twitter tweets, and 44 stories from a variety of other sources.
Two of the stories in Niemann's main block were repeated in the top news, while the third story, not repeated, was the off-the-wall Elon Musk nonsense that I covered last year in It's Not Polytopia (March 2022). Following are the first stories from each of the three Yahoo blocks:-
As often happens in the world of Yahoos, I ran out of time to continue with this post. I'll come back later to look at some of the other stories for the month.
[Yahoos (mainstream news stories about chess) are derived from Google News top-100 (or so) stories from the past month.]
***
Later: On top of the three stories flagged by Google News as worthy of a special highlight, three other stories merit inclusion in this month's Yahoos post. All received coverage from multiple mainstream sources. Here they are in chronological order.
I've never understood why news sources surrounded by paywalls are returned by Google News. Everyone loses: Google News loses credibility; the news source loses a reader; the person who follows the Google link loses time. Does anyone really think that someone with an interest in a single story is going to pay for a permanent subscription to read that story? It's a lose-lose-lose proposition. There are plenty of other news sources reporting on the same story. Following is another example of paywall unpleasantness.
2023-08-16: Chess World Splits Over Handling of Sexual Misconduct Allegations (wsj.com) • 'Continue reading your article with a WSJ subscription.'

Here's another angle on the same story, returned by a normal search on the title of the FT story. Note that it's straight from the original source of the chess news.

2023-08-17: WSJ: Chess Platforms Halt Relationships With Saint Louis Chess Club (chess.com; TarjeiJS) • 'Chess.com and Lichess will halt their relationships with St. Louis Chess Club and no longer provide support for or cover any of their tournaments in the wake of allegations of sexual misconduct, The Wall Street Journal revealed on Wednesday.'
For the events leading up to this break between the online chess powers and a major chess sponsor, see Three Yahoo Surprises (June 2023; keyword = 'Alejandro Ramirez'). We certainly haven't seen the end of it.
That makes two major themes related to women's chess. Over the last few years, much effort has been spent supporting women's chess. Was anyone expecting this much negativity?
[NB: The two Chess.com/TarjeiJS stories quoted here were not returned by Google News.]