It's Yahoo time again (see the footnote for an explanation of Yahoos) and what a great month it's been for chess stories in the mainstream press. Last month we had Candidate and Olympiad Yahoos (July 2022), when the Olympiad was just getting started. This month we had nearly 20 stories related to the Olympiad, but I'm getting ahead of myself. Let's first have the top level stats.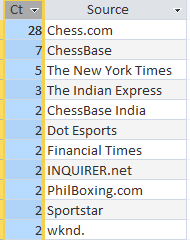 Google News returned 99 stories of which 95 were for the current month. The 11 sources with more than two stories, shown in the chart on the left, accounted for 57 stories, leaving 38 sources with a single story.
The 2021 summary post A Year of Yahoos (January 2022), aggregating all the data for last year, shows that stories from the previous month started creeping into the Google News search toward the end of last year. I suspect this happens whenever there aren't enough current month stories to satisfy Google's appetite, when they pad their results with older stories.
There were so many Olympiad stories this month that padding wasn't necessary. We'll find out next month if the counts revert to the trend that started last year. Of the five stories about the winning Olympiad teams, four were from Chess.com. The exception was:-
The Indian Express was one of three Indian sources with more than two stories, ahead of ChessBase India, and Sportstar (thehindu.com). Two sources on the chart that I didn't recognize were 'Dot Esports' and 'wknd' (based in Dubai). What's 'Dot Esports'? In Gamurs (wikipedia.org), Wikipedia informs,
The GAMURS Group, simply known as Gamurs, is an esports media and entertainment publisher. Established in December 2014, the group operates multiple brands focusing on the esports and entertainment news markets, including the websites: Dot Esports, [...]. GAMURS is based out of Sydney, Australia, with an office in Austin, Texas.
The bigger of its two August stories was:-
That wasn't the only business story returned by Google, nor was it the most important. The Financial Times announced,
Since that story is worth a separate post, I'll look at it in more depth elsewhere. FT chess stories are nearly always big stories about the game, and their other August story was about the FIDE presidential election: Ukrainian grandmaster moves to check Russia's domination of world chess federation (ft.com; 'Andrii Baryshpolets seeks to harness international sympathy for Kyiv to end Moscow's longstanding rule of FIDE'). I've already covered that on my World Championship Blog in Dvorkovich Gets Four More Years (August 2022). A related story returned by Google was:-
There are at least another half-dozen stories worth mentioning. I've been running a Fischer Friday series related to the 50th anniversary of the 1972 Fischer - Spassky Match (m-w.com), last seen in Was Fischer Avaricious? (August 2022). Many other chess organizations have been honoring the match, including two of the most influential chess resources, seen together here:-
All of the above taken together already signals a big month for chess news. I could go on and on, but I'll stay out of the weeds and stop here.
[Yahoos (mainstream news stories about chess) are derived from Google News top-100 (or so) stories from the past month.]