So you thought you had seen the last of the Hans Niemann controversy? Not even close. Last month's Yahoos post, Top Yahoos: Niemann, WRTC, and Pragg (August 2023), mentioned,
That [Niemann] page had four stories under 'Top news', four Twitter tweets, and 44 stories from a variety of other sources.
This month we had only eight Niemann stories, but that's still a lot of stories compared to the hottest chess story in an average month. Before we look at the details, let's cover the month's stats.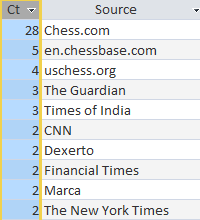 This month Google News returned 99 stories. As the chart on the left shows, there were 10 sources with more than one story and they accounted for 53 stories. That leaves 46 sources with a single story.
The month saw the usual no.1 & no.2 sources, and this is also not the first time we've seen a top place for the no.3 source, USchess.org. The three 'Times' Yahoos -- Times of India, Financial Times, and The New York Times -- are often seen among the top sources, for example, in Three Times Yahoos (July 2021).
Back to the infamous Hans Niemann, the 99 stories started with a group of eight stories under the heading 'Chess grandmaster Hans Niemann denies using sex toy to cheat'. Of the eight stories, the first was:-
The next news sources, respectable organizations like Forbes, CNN, and People, were mostly focused on the 'vibrating sex toy' angle of the story. Two, already in the title, identified the toy as 'anal beads'. Should we classify this under human interest? How about bottom fishing?
Removing those eight stories from consideration leaves 91 other stories on more uplifting chess topics. I'll come back to those another day.
[Yahoos (mainstream news stories about chess) are derived from Google News top-100 (or so) stories from the past month.]