Last month we had March 1964 'On the Cover', so this month we have a tradition.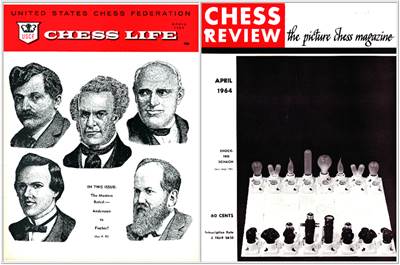 Left: 'The Masters Rated: Anderssen to Fischer'
Right: 'Shocking Schach'
Chess Life
Prof. Elo's history-making rating list calls forth our display of chess talent from the 19th and early 20th centuries. Above, left to right: [Lasker, ...] Now they, too, are USCF-rated!
Chess Review
The new Rosenwald set (compare with one on March cover last year) merits a plug for Sidney Lachs, West Hollywood, Florida, who suggested the idea. The men are:

White (bulbs): Pawns, colorful fuses; Knights, two bulbs; Rooks, Bishops and King, standard bulbs; Queen, trick bulb, available at most magic stores and wired with battery and inner bulb by Rosenwald so, when one pushes "her" button, she lights up! This is no joke, says Rosenwald.

Black (receptacles): Pawns, standard plugs; pieces, variations of plugs, some with adapters for height.

All bases are standard porcelain receptacles. Board is 2 1/2 inch squares cut from bright yellow and white vinyl tiles. Total cost: $16.28, state and federal tax incl. Set designed and executed by Robert L. Rosenwald.
I didn't understand the explanation of the White Queen, so I looked further: see, for example, Magic Light Bulb by Loftus on Amazon.com. Imagine Uncle Fester of the Addams Family with a light bulb that glows spontaneously in his mouth. That's the magic.