Here's Susan Polgar doing what she does best -- promoting chess.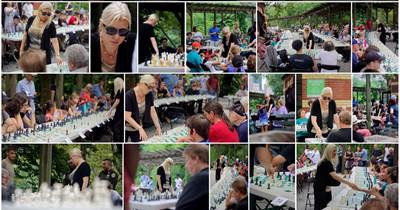 Photo top left: SusanPolgarCP11 © Flickr user 4paul! under Creative Commons.
For more information, see Chess Lecture and Simul Series at Chess and Checkers House (centralpark.com):-
Learn techniques from world-renowned chess experts. Then put your new skills to the test against a grandmaster while they challenge 30 participants – simultaneously! This program is FREE. Space is limited. Participation is first come, first served. No groups, please. Ages 6+, prior experience required.
[Previous post in the Flickr series: Chess Engines for All Ages (July 2018).]