This chess set appears to be the same set shown in Lord of the Rings, Trilogy Edition. Although the present example is unpainted, what a contrast in artistic quality the two photos make.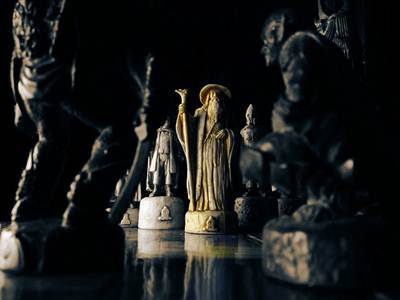 You Shall Not Pass!!! © Flickr user Cyril-Rana!! under Creative Commons.
The photographer wrote,
I love chess, but the biggest problem of playing it, is that I always end up taking photos of it rather taking part in it. I just love my Lord of the Rings chess set. Spent the whole evening clicking, tinkering with the lighting in my mini DIY studio.
I was already the tenth person to add the photo to my favorites, even though it had been uploaded less than a day earlier.