To blog or not to blog. In The End of Daily Blogging (September 2019), I wrote,
Sunday: I've been rotating monthly through eBay, Youtube, Flickr, and sociology. These are all subjects that expand on some random, chess-related topic, where I always learn something new. I'll continue with some of these until I finally close the blog.
The eBay series is Top eBay Chess Items by Price (March 2010) and -- today being the first Sunday of the month -- by force of habit I scrolled through eBay's closed items for September looking for a subject worthy of a blog post. Of the half-dozen items that made my short list, four were for autographs. I rejected three of those autographed items because they weren't visually interesting or were similar to other posts on this blog. Here are their titles and selling price:-
'1958 PRODIGY BOBY FISCHER & 15 Grandmasters Signed Portoroz Chess World Champion'; US $2,314.00
'Original document SIGNED by CAPABLANCA chess moves world champion 1929 Autograph'; US $400.00
'ICELAND CHESS Bobby Fischer vs. Spassky match - Fischers autograph'; US $400.00
The fourth item was something new for me:-
'Easton Press - Burgess Mammoth Chess, Karpov and Kasparov (Signed 1st editions)'; US $650.00
The following composite image of the item shows the books on the left and the autographs on the right (Kasparov top, Karpov bottom).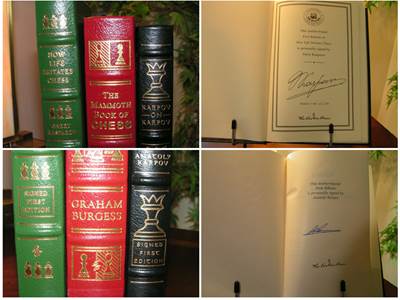 The description of the eBay item listed the full titles:-
* Anatoly Karpov - Karpov on Karpov: Memoirs of a World Chess Champion (Signed First Edition 1991)
* Gary Kasparov - How Life Imitates Chess (Signed First Edition 2007)
* Graham Burgess - Mammoth Book of Chess (First edition 2010)
After long excerpts from reviews of each book, the description continued,
Easton Press books are bound in genuine premium leather and come with moire fabric end-sheets and a permanent satin ribbon page marker. The spines of these luxurious books are accented in 22-karat gold and are hubbed with traditional raised rings. Each unique binding is decorated with a deeply inlaid design of 22-karat gold. The page ends are gilded in 22-karat gold for beauty and protection against dust and humidity. Easton Press Books are also printed on archival-quality acid-neutral paper that is Smyth-sewn for strength and durability. • Condition: Near mint, no nameplates.
I have paperback copies of all three books and I never would have guessed that they might be treated like 'Moby Dick' or 'The Great Gatsby'. The Kasparov book, although worth reading, is not one of his best. I once blogged about it in Me, Myself, and I (May 2011). I found another description of the eBay item on Signed by Garry Kasparov "How Life Imitates Chess" Easton Press Signed First Edition (veryfinebooks.com), where it is offered for $295.00:-
Personally signed by Garry Kasparov directly onto a limitation page. Condition: As New - Still sealed in the original shrink-wrap from Easton Press. The condition is of the highest quality.

Easton Press. Norwalk, CT. 2007. Garry Kasparov "How Life Imitates Chess: Making The Right Moves, From The Board To The Boardroom". Signed Limited First Edition. Limited to only 1,350 signed and numbered copies. Full genuine leather. Certificate of Authenticity from Easton Press guarantees the signature.
I had to look up the meaning of 'limitation page', which is also called a 'signature page' and which refers to numbered copies of a limited edition. Like I said at the beginning of this post, when it comes to the Sunday series, 'I always learn something new'. Next stop: Youtube.