The first and last time we saw jewelry on Top eBay Chess Items by Price (started March 2010), was The Value of Jewelry (March 2016). The items shown in the image below appeared a week apart on eBay from different sellers.
Top: 'Rare Trifari Sterling Silver White King Queen Chess Pin Clips'; sold for US $406 after three bids from two bidders.

Bottom: 'Rare Find! 1940s TRIFARI CHESS King Queen STERLING Set Figurals Pins Brooches'; US $475 Buy-It-Now.
Although both photos show the Queen on the left, I bet many sellers would have shown the King on the left. Isn't that some sort of protocol for royals?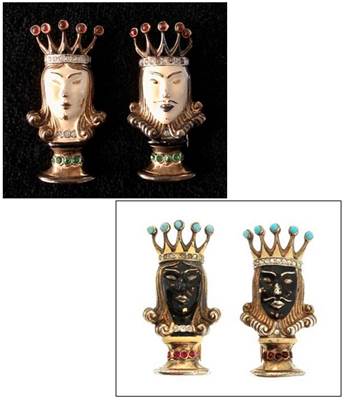 The description of the item on the top only repeated the title of the auction and added 3/4" x 1-5/8". The description on the bottom was more informative:-
A set of the 1945 Trifari Sterling Chess Figural Brooches. Designed by Alfred Philippe. You get the King and Queen!

Featuring black enameled faces, cream enameled accents, ruby and crystal chaton rhinestones and small turquoise beads in their crowns, all set in vermeil plated sterling silver, with double prong fur/pin clip mechanisms on reverse. A royal treat! Love these figurals!

Hallmarks: Trifari with Crown over the T, Sterling, des. pat. no. 140843 and 140844 (see patent drawings). Measurement: 3/4" x 1-5/8".
For more about Trifari, see Vintage Trifari Jewelry (collectorsweekly.com).