'Jackpot!', I told myself, when Flickr invited me to 'View all 265' images available since last month's Doesn't Look Like a Photo (November 2019). My enthusiasm quickly evaporated when I realized that 95% of the images were copies of a handful of chess magazine++ covers all pointing to the same shopping page. Did the page have anything to do with chess? I'll never know, because I rarely click through to an obvious spam scam.
Fortunately, I had another handful of real chess photos to choose from for this post. This was the best of the bunch.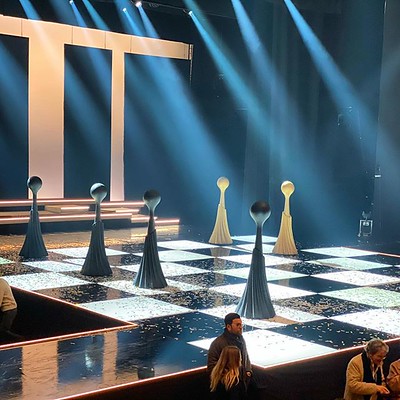 Cirque Du Soleil © Flickr user R.I. Pienaar under Creative Commons.
The full title of the photo -- and, yes, it's a photo -- could also serve as a description:-
Pretty good show last night at Cirque Du Soleil. I would say this has been a hugely challenging situation for the pedant in me to go to a chess themed show with a 7 x 7 board!
What's Cirque Du Soleil? Wikipedia's page on the subject, Cirque du Soleil, says,
Cirque du Soleil (French, "Circus of the Sun" or "Sun Circus") is a Canadian (Quebecois) entertainment company and the largest contemporary circus producer in the world. Based in Montreal, Quebec, Canada, and located in the inner-city area of Saint-Michel, it was founded in Baie-Saint-Paul on 7 July 1984, by two former street performers.
The photo's home page didn't offer any clues to where it was taken, but many of the photographer's other photos pointed to the Mediterranean island of Malta. Indeed, I found another page dated December 2019, titled Acrobats wow audience at MCC (timesofmalta.com), and subtitled 'Cirque du Soleil brings original show inspired by the game of chess to Malta'. MCC doesn't mean Malta Chess Club; it means Mediterranean Conference Centre, located in Valletta, which happens to be the capital of Malta. The plot goes something like this:-
This is not a story about war. When the Golden King falls in love with the Black Rook, he embarks on reckless moves to capture her heart, throwing this orderly world into disarray. As he tries to get closer to his love, he faces a pretentious, narcissistic monarch and his fearsome Queen.
That doesn't fit at all into my world view of chess, but I would still take advantage of an opportunity to see it.