Since the year 2020 is the year of the chess movie -- a few months we had Chess Movie 2020 (August 2020; 'Critical Thinking' by John Leguizamo), and more recently Queen's Gambit Mania (October 2020) -- it's easy to forget the old classics. Let's go back more than 80 years to a chess movie of yesteryear.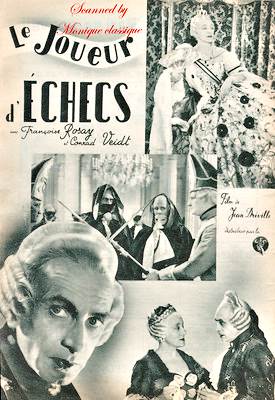 "Le joueur d'échecs" (1938) © Flickr user manhhai under Creative Commons.
The Flickr description, given first in Vietnamese then in English, is a copy/paste of the introduction to Wikipedia's The Chess Player (1938 film):-
The Chess Player is a 1938 French historical drama film directed by Jean Dréville, released by Compagnie Française Cinématographique in France and Columbia Pictures in the United States and starring Françoise Rosay, Conrad Veidt and Bernard Lancret. It is a remake of the 1927 silent film The Chess Player.
A link in the description leads to Le joueur d'échecs (1938; conradveidt.wordpress.com; 'The Conrad Veidt Website'), with 25 photos from the film, including the poster shown above. For the IMDb writeups on the two versions of the film, see:-
The Chess Player (1927; imdb.com); • 'In 1776, an inventor conceals a Polish nobleman in his chess-playing automaton, a machine whose fame leads it to the court of the Russian empress.'


Chess Player (1938; ditto) • 'A toymaker in Poland specializes in building lifesize mechanical men. He builds a chess-playing "automaton" to hide a pretty young Polish activist who is being hunted by occupying Russian forces.'
The red text in the image above is not on the original poster. It is a watermark that says, 'Scanned by Monique classique'.