In last month's post, French or Italian?, the most recent post in the long-running, monthly series on Top eBay Chess Items by Price (March 2010), I wrote,
According to my informal selection rules, I should pick an item from the previous month, i.e. September 2020, but the item shown below ended on 1 October and none of the alternatives on my short list were particularly interesting. I'm also hoping that the rest of October will offer other items for the next eBay post.
Hoping sometimes works. The item pictured below was titled 'William Gropper b.1897-d.1977 etching Chess Players Blacklisted shop Studio' and sold for 'US $1,195.00 or Best Offer'. So which was it, $1,195.00 or Best Offer? I don't remember the final eBay price being so ambiguous, but maybe I haven't been paying sufficient attention.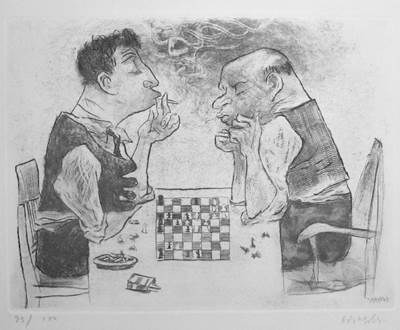 The description said only,
William Victor "Bill" Gropper, was a U.S. cartoonist, painter, lithographer, and muralist. A committed radical, Gropper is best known for the political work which he contributed to such left wing publications as The Revolutionary Age, The Liberator, The New Masses, The Worker, and The Morning Freiheit.
That description happens to be the first paragraph of the artist's Wikipedia page, William Gropper. But what about the word in the title, 'blacklisted', or the phrase in the description, 'committed radical'. What's that all about? Wikipedia continues,
His parents were Jewish immigrants from Romania and Ukraine, who were both employed in the city's garment industry, living in poverty on New York's Lower East Side. His mother worked hard sewing piecework at home. Harry Gropper, Bill's father, was university-educated and fluent in 8 languages, but was unable to find employment in America in a field for which he was suited. This failure of the American economic system to make proper use of his father's talents doubtlessly contributed to William Gropper's lifelong antipathy toward capitalism.

Gropper's alienation was accentuated when on March 24, 1911, he lost a favorite aunt in the Triangle Shirtwaist Factory fire, a disaster which resulted from locked doors and non-existent exits in a New York sweatshop. Some 146 workers burned or jumped to their deaths on that day in what was New York's greatest human catastrophe prior to the terrorist attacks of Sept. 11, 2001. [...]

Due to his involvement with radical politics in the 1920s and 1930s, Gropper was called before the House Un-American Activities Committee in 1953. The experience provided inspirational fodder for a series of fifty lithographs entitled the Caprichos.
'The Caprichos', aka 'The Capriccios', in English 'The Caprices', are also described in Wikipedia, Los caprichos, although in a different context:-
Los caprichos are a set of 80 prints in aquatint and etching created by the Spanish artist Francisco Goya in 1797 and 1798, and published as an album in 1799. The prints were an artistic experiment: a medium for Goya's condemnation of the universal follies and foolishness in the Spanish society in which he lived.
A century and a half later, Goya's Caprichos/Capriccios were an inspiration for Gropper. Is this month's chess etching one of 'The Caprichos'? My guess is 'No, it isn't', but it's certainly a caprice, at least for some people.