Looking for stock photos of chess pieces mingled with crypto coins? This Flickr resource is a good place to start.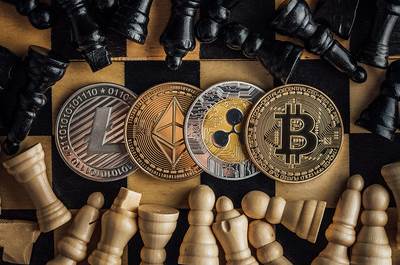 Bird's eye view of the physical crypto currency coins surrounded by chess pieces © Flickr user Ivan Radic under Creative Commons.
That title doubles as a description of the photo. The four coins shown represent (left to right):-
Litecoin, Ethereum, Ripple, and Bitcoin.
How do I know that? For years I've been following the bitcoin phenomenon on my blog Bitcoins and Blockchains. It's mostly dormant now, but I might wake it up at any time.
I found a seller of the physical coins shown in the photo at Bitcoin munt (goud) cryptocurrency munten set 5-delig in fluwelen opbergdoos (bol.com). That Dutch title translates to 'Bitcoin coin (gold) cryptocurrency coin set 5-piece in velvet storage box'.
Five pieces? What's the fifth? It's Dashcoin, a crypto currency that I'm not sure I've encountered before.
For more stock photos from the same photographer, see Ivan Radic's photos; Search: chess (flickr.com). As the text on the Creative Commons (CC) link explains, the photo shown is marked 'Some rights reserved'. See the CC page for an explanation of what that means exactly.