Continuing with the series that kicks off a new month on this blog, last seen in May 1971 & 1996 'On the Cover' (May 2021), this month's post is all about records. If the cover on the left looks familiar, it might be because we saw it a few years ago in Early U.S. High School Championships (May 2017), where I noted, 'In 1973, Larry Christiansen, a future three-time U.S champion, repeated his 1971 success.'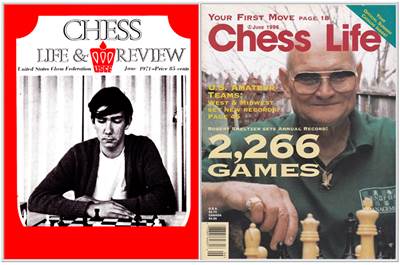 Left: ?
Right: 'U.S. Amateur Teams: West & Midwest Set New Records; Robert Smeltzer Sets Annual Record! 2,266 Games'
Chess Life & Review (50 Years Ago)
Larry Christiansen of Riverside, California, the first Junior High School student ever to win the National High School Championship. Full story next month.
Using the CFAA time travel machine, we skip ahead to the July 1971 issue of CL&R where we find a three page report by William [Bill] Goichberg titled 'Christiansen, Stuyvestant [sic, 'Stuyvesant'] High School Win National Titles'. It started,
537 students from 26 states and Puerto Rico competed in the 3rd Annual National High School Championship, played in New York April 2-4. There were 334 players in the Championship Section and a new high of 203 players in the Novice Section, open to all rated below 1400 or unrated. Overall attendance declined by 15 players from last year's 552, a not too discouraging figure in this recession year which saw disappointing turnouts in the Midwest, Eastern, Western, and Southern High School Championships. National representation actually continued to improve -- although the number of states was identical to last year, more players came from greater distances.
After a round by round account of the tournament, we learn that Christiansen attained a 7-0 score, while Robert Gruchacz was the only player a half point behind going into the final round. The Goichberg report continued,
With White against Gruchacz, Christiansen quickly established a strong position and the half-point he needed was agreed upon. The first junior high student to win the Championship, Christiansen was a Class B player two years ago and an A player at last year's Nationals (placing 21st).
Christiansen was in 9th grade at the time of winning the event.
Chess Life (25 Years Ago)
We thought it was a misprint when we saw the Most Active list in the Yearbook. We even checked it twice. Robert deserves whatever recognition we can give him. However, if a medal were involved, it would most deservedly go to his wife!
That was the editor's note to a full page article about Robert Smeltzer's accomplishment. The bulk of the article was a short chess autobiography by Smeltzer. It started,
I spent my early childhood and school years in the small quiet town of Wakarusa, Indiana (pop. 1200). Wakarusa is located in the far north part of the state close to Elkhart and South Bend.
The centerpiece of the article was a 'Letter of Appreciation':-
I would like to take this opportunity to thank the Dallas Chess Club for the excellent space provided to play my match and tournament games. I especially thank Hugh West for being my match director, Luis Salinas for assisting at times and George Tolliver for the incentive prize fund he sponsored.

Some of the many club members who played making it possible for me to complete 2266 USCF rated chess games in 1995 are: [...] Many of these players spent long hours playing 10 to 14 game matches in 1 day. We had many grueling difficult games many of which went the full 30 minute time limit. I enjoyed 1995 as a good year of chess. I am looking forward to many more good years of chess. I hope all of you chess players have a good year in 1996.

Thank You,
Robert W. Smeltzer
19 March 1996
A March 1996 thread in rec.games.chess.misc, Most Games Played in USCF? (groups.google.com), apparently posted before the CL article, discussed the complications around Smeltzer's record. For more about rgc/rgcm, see Early Chess Newsgroups (June 2015).