After doing the legwork documented in Nepo's TWIC Debut (June 2021; 'TWIC 310, dated 16 October 2000'), I set out to learn when the young Nepomniachtchi had earned his FIDE titles. Of the resources mentioned in the kickoff post, Carlsen's 2021 Challenger (May 2021), the most informative source was The chess games of Ian Nepomniachtchi (chessgames.com), under 'Title norms':-
Nepomniachtchi's first IM norm came from his 6/9 result at the Aeroflot Open B event in February 2003. His second IM norm came with his result at the tournament in Bled, Slovenia in July 2003. His third IM norm resulted from his requisite 4/9 result at the Aeroflot Open (2004) on 26 February 2004. He thereby became an International Master at the age of 13 years 7 months and 12 days.

He won his first GM norm with his 10/13 at the Corus Group C (2007). His second came from his result at the European Championship (2007) in April 2007. His third GM norm resulted from his his excellent 7/11 result at the World Youth Stars (2007) which had its last round on 27 May 2007. As his rating was [already] well above 2500, he became a grandmaster at the age of 16 years 9 months and 17 days.
Since my investigation for 'TWIC Debut' had stopped with TWIC 649 (16 April 2007, 8th Individual European Chess Championships), I extended it another year to include the last of his GM norms. I discovered that the 2007 World Youth Stars was the fifth in a series, and that Nepomniachtchi had played in all previous editions of the event. Here are the TWIC references for the five events:-
TWIC 458; 2003-08-18 : Young Stars of the World
TWIC 504; 2004-07-05 : Young Stars of the World
TWIC 551; 2005-05-30 : Young Stars of the World
TWIC 602; 2006-05-22 : 4th Young Stars of the World
TWIC 655; 2007-05-28 : Somov Memorial Kirishi ['V International Chess Tournament "World's Youth Stars"']
Using those references, I created the following composite image showing the TWIC crosstables for all five events.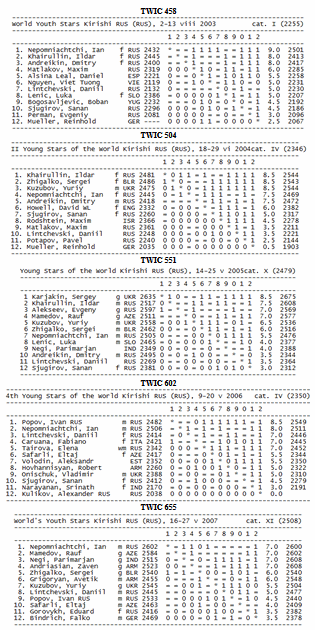 Larger examples of the crosstables can be found on Mark Crowther's The Week in Chess (TWIC).