Make that Steinitz and Zukertort cabinet cards, as in Top eBay Chess Items by Price (March 2010). The basic information for the two cards shown below, both from the same seller was:-
Left: 'Vintage World Chess Champion Wilhelm Steinitz Cabinet Card Photograph c. 1890s'; Ended: May 2021; Sold for US $681.00; 13 bids from six bidders

Right: 'Vintage Chess Player Wilhelm Steinitz Johannes Zukertort Cabinet Card c. 1890s'; Ended: Jun 2021; Sold for US $864.00; 23 bids from eight bidders
The images on both cards are well known. In fact, I found no other copies of the image on the right. More common is a similar image with Zukertort facing the camera and Steinitz studying the board.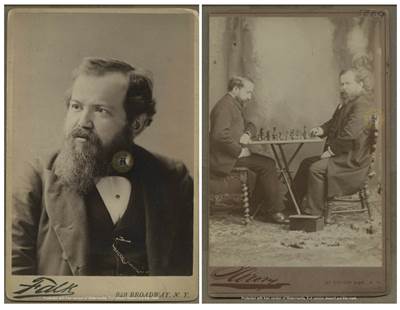 The description of both cards added only the dimensions:-
Left: Approximate dimensions: 4.25" W x 6.5" H. • Back of card (handwritten): 'William Steinitz, Chess player; Champion of the world for 25 years; New Yorker but lived in Upper Montclair (N.J.)'

Right: Approximate dimensions: 4" W x 6.5" H. Cabinet card appears to have been trimmed on left side.
I have another copy of the image on the left. The eBay description for that card said,
An extremely rare cabinet photograph of William Steinitz (1836-1900); Chess champion of the world, 1866-1894. by Benj. Falk (New York). c.1880. Image measures approx. 4 x 6 1/2 inches. Very good condition.
What's a cabinet card? The Wikipedia page Cabinet card starts,
The cabinet card was a style of photograph which was widely used for photographic portraiture after 1870. It consisted of a thin photograph mounted on a card typically measuring 108 by 165 mm (4+1/4 by 6+1/2 inches). [...] The carte de visite [NB: CDV] was displaced by the larger cabinet card in the 1880s.
A few years ago I did a couple of posts on chess CDVs, where the more recent was Brady CDVs (September 2016).