What exactly are we looking at here? The title of the photo isn't particularly helpful.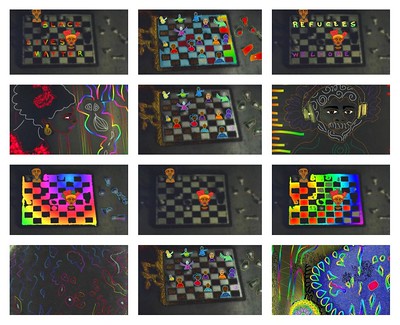 We are all just Pawns in a game of chess © Flickr user Lacuna Festivals under Creative Commons.
Neither is the description.
My collaborator was a film maker and I am a visual artist. I decided to select still images from the film that I found interesting and add to the reflecting on the overall theme for the exhibition of distance and related issues of displacement and separation.
There were two names attached to the title -- Aleksandra Hewelt and Zita Holbourne -- although a search on each only establishes that the first is the film maker (Polish) and the second is the visual artist (British?). A search on both together leads back to the Flickr photo.
How about the name of the Flickr user, Lacuna Festivals. LacunaFestivals.com informs,
The Lacuna Festivals are an offshoot of The Lacuna Studios. Through the Lacuna Festivals we hope to:-
• Promote quality, contemporary (and sometimes challenging) art to communities isolated from mainland Europe which, therefore have limited access to international, contemporary arts.
• [...]
LacunaStudios.com informs,
The Lacuna Studios shall be residential studio spaces in the Canary Islands, created by and for artists, makers, designers, craftspeople, thinkers, writers, musicians, educators and students from around the world.
Back to the Flickr photo, I'm still not sure what I'm looking at -- 'still images from the film'; what film? -- but I like it.