For the first time since I started the series on Top eBay Chess Items by Price, the item I've chosen is a book. Given the choice between Duchamp's Opposition and Sister Squares (1932; 1 bid, winning bid: US $600.00) and No Rook Unturned - 2nd Ed - Harrie Grondijs (2004; 6 bids, winning bid: US $750.00), I chose the Grondijs book, mainly because I had never heard of it. It's description said,
No Rook Unturned, A Tour Around the Saavedra Study by Harrie Grondijs: The "story/history" of the Saavedra Position. A 384 page book on a single position! Sounds boring, doesn't it? Mr. Grondijs makes it come alive, a history of the position which was fascinating to read! This is a wonderful piece of research! Corrections and additions have been made to this 2nd edition. This edition, as well as the 1st edition, was published in 2004 although it is not so stated in the book.

Mr. Grondijs is well known for his small edition, unique, well produced and signed publications, most of which deal with small well researched topics. He has brought considerable interesting material to us over a long period of time. His books are almost always signed and numbered in small limited editions. This edition of this book was produced in 30 copies of which this is # 9. (The 1st edition only had 30 copies also.) His books are difficult to obtain due to the small editions and a unique distribution method, e.g., one was given to members who attended a meeting of the Ken Whyld Association.

There is a price sticker on the back cover which I will not try to remove. It is priced at €64 and the publisher is Van Stockum Boekhandel, The Hague. Also enclosed is a postcard created for this book with a picture of Saavedra and a circular "No Rook Unturned" superimposed on the bottom left side of the picture. On the back/message side, there is a P. Rynd quote and two hand-drawn diagrams both in Mr. Grondijs' handwriting, as well as his signature.
The Wikipedia entry on the Saavedra position pointed me to A.J.Roycroft's 'Test Tube Chess' (1972; for another post on Roycroft, see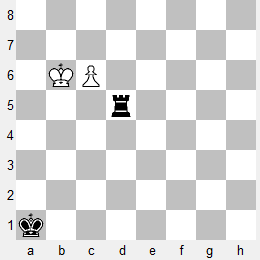 Tablebase 1 - Roycroft ½). The position on the left is Roycroft's no.115, 'unquestionably the most famous of all endgame studies'.

It was initially published in an 1895 chess column with the solution 1.c7 Rd6+ 2.Kb5 Rd5+ 3.Kb4 Rd4+ 4.Kb3 Rd3+ 5.Kc2 Rd4, followed by 6.c8=Q Rc4+ 7.Qxc4 stalemate. When Fernando Saavedra, a sharp-eyed reader of the column, pointed out that 6.c8=R Ra4 7.Kb3 wins, the Saavedra position was born.