The last time I featured a painting in this series on Top eBay Chess Items by Price, was more than six months ago, in Cavaliers or Conquistadors?, because they just don't appear very often. The title of this particular image was '19C LADY GENT CHESS PLAY PAINTING BESSON LISTED FRENCH', and although I thought I had seen it before, the 7 bids and winning bid of US $550 convinced me that I must be mistaken.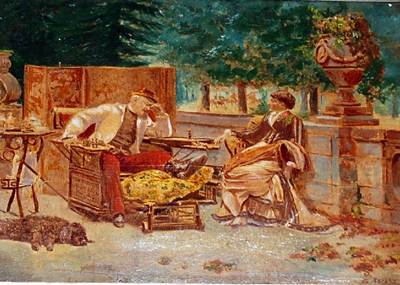 The description said,
Finest quality! CLASSICAL late 19th Century genre painting of a Lady and a Gent playing chess outdoor by well listed French artist Faustin Besson (1821-1882) signed by artist in LR. • Media: Oil on beveled oak board, nice antique frame, size: 8 by 6 inches, the painting framed is about 14 by 12 inches, in pretty good antique shape. No restoration, clean and beautiful! The painting may have just a few very minor rim nicks and scratches - nothing to disturb the beauty!
For more by the same artist, see About 5,590 results : Faustin Besson.