In the nearly ten years that I've been running the series on Top eBay Chess Items by Price (March 2010), I can't remember another article of clothing. The item pictured below, titled 'Magnus Carlsen's 2018 World Chess Championship Jacket', sold for US $4450 after 35 bids from 11 bidders.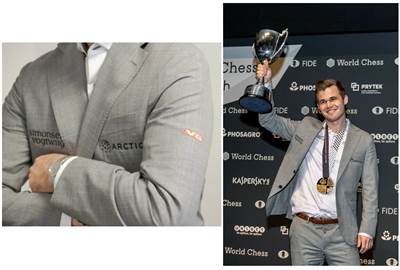 The photo on the left shows 'simonsen vogtwiig' [vogt wiig] and 'ARCTIC' on the two pockets, plus 'VG' on the sleeve. The hidden sleeve says, 'PLAY MAGNUS'. The description added,
Package includes the original suit jacket and trousers worn by Magnus when he won the 2018 World Championship against Fabiano Caruana! All proceeds will be donated to Chess of Asuncion, a Paraguayan project which transforms wood waste into chess pieces and boards for low-income schools.
For more about the auction, see Magnus Carlsen World Chess Championship jacket auction (chess24.com). For more about the match -- that's the one where they used that weird logo and played twelve straight draws -- see my page 2018 Carlsen - Caruana.