Since its complete makeover a few months ago, FIDE's website gets no respect. Case in point: Coffee, Chess, the FIDE webpage & other Goofiness (spraggettonchess.com), where we find this informed commentary:-
The Mad, Mad World of FIDE's Home Page • FIDE's new website has been almost universally criticized in the online chess community. For one reason or the other, such as requiring too much scrolling to find what you are looking for, unfriendly and difficult navigation, incomplete player information and ratings, too crowded with BIG images and confusing layout, too much in your face, etc.
To that I would add a severe shrinking of news about FIDE's current activities. The site appears to be on information lockdown. But all is not lost. Next to 'Top players', under 'Person of the day' you'll find a search on the 'Players database'. I entered my own last name and got this...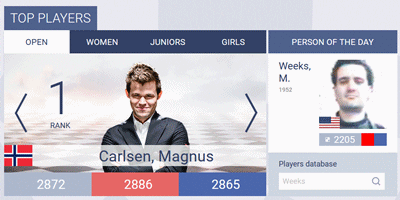 ...That's my name, my birth year, the flag of my federation, and my last published rating; but that's not my photo. My guess is that it's The other M.Weeks (May 2006), aka 'Manuel William Weeks' of Australia. I suppose I should submit my own photo to FIDE, but how?
***
Later: Re 'I should submit my own photo to FIDE', how about this one? (With apologies to the great Groucho.)